Fountain of Faith Brotherhood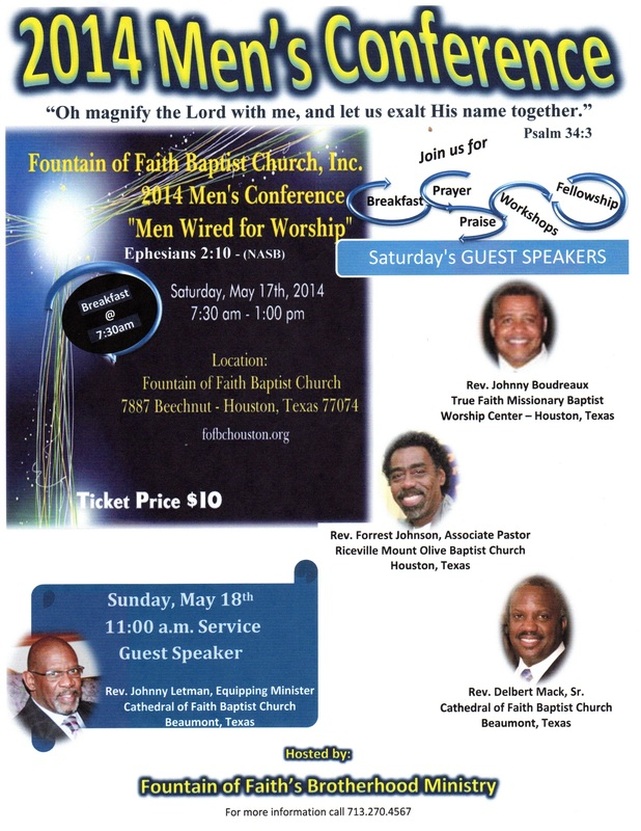 Saturday May 17th
Session 1: The Simple Wired Circuit
Subject: He Designed Us ( Gen. 1:27)
Teacher: Rev. Forrest Johnson, Associate Pastor, Riceville Mount Olive Baptist Church, Houston, Tx.

Session 2 The Complex Wired Circuit
Subject: He Built Us (Programmed for Praise) (Rom 8:29-32)
Teacher: Rev. Johnny Boudreaux, Sr. Pastor, True Faith Missionary Baptist Worship Center - Houston, Tx.

Session 3 The Distributed Control System/The Computer
Subject: He Energizes Us (2 Cor. 12:9)
Teacher: Rev. Delbert Mack, Sr., Sr. Pastor Cathedral of Faith Baptist Church, Beaumont, Tx.




Sunday May 18
Subject; A Man Lead by His Lord (Wired & Energized for Worship)
Ephesians 2:10
Teacher: Rev. Johnny Letman, III
Assistant Pastor, Cathedral of Faith Baptist Church, Beaumont, Tx



2011 Conference remembered
From the desk of Pastor Mark Cain


Dear Men of God,

Welcome to the 2011 Men's Conference of Fountain of Faith Baptist Church! We thank God for your presence, fellowship, and focus on the One who truly provides what we need to lead our families, churches, and communities. Just as our theme states, we must become " Men of Vision. It's true that God wants to broaden our understanding, but first we must narrow our focus on Him.

The awesome privilege that God has given men to lead in the home and the church requires a perspective that goes far beyond the natural eye. Life's greatest achievements are accomplished through joint efforts which result from sustained faith, hope, and vision. That same vision requires that we see the opportunity that lies inside of the challenge to remain true and faithful to His Word and His way even in the midst of changing times.

Therefore, before we can guide others we must be committed ourselves to be continually lead by the Lord. The result will no doubt be plain to see that we are men with the Father's foresight who have become catalyst for Christ, sharing His Great Commission Vision. The course has already been charted and we have been called to be the compass to show the way. As you invest yourselves in the lives of others, let them see the value and the victory of God's vision in you.


In His never-ending grace,

Pastor Mark A. Cain
Proverbs 27:17


What an Awesome Event!!!

Fountain of Faith Baptist Church
2011 Brotherhood Conference
Theme: "Men with a Vision"

Proverbs 29:18- "Where there is no vision the people perish"

All praises to God. The conference was a huge success!

We would like to thank all the men who participated and

a special thanks to the Women of Faith for their support.